There is just something so sweet about Spring.
The flowers are blooming.  The weather is gorgeous.  The Spring outfits are feminine, flowy, and fun.  Every once and a while, we still get a bit of cool weather in the Spring.  The outfit featured in this blog post was worn on a cooler day, but some of the pieces can be incorporated for warmer weather.  Although I must admit that Fall is my favorite season (I am a November baby after all), there really is something special about Spring.
This post contains affiliate links. Please see disclosures for more details.
Gingham is definitely the pattern of the season right now.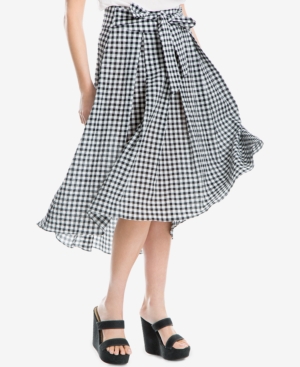 And I am loving it.  Gingham just makes me want to go sit outside and have a picnic.  Be on the lookout for another adorable Gingham print soon.  I found a red and white Gingham bell sleeved shirt that I recently wore and will be showing it on my blog and Instagram.
With this Spring outfit, I wore an adorable blue and white checked skirt for this outfit.  Although I can't find the exact skirt online, I did find some fabulous options to achieve a similar look.  My favorite that I have seen online is pictured to the left.  It is the Max Studio London Gingham Print Midi Skirt at Macy's.  It is just amazing.  I am in love with the silhouette and the tie waist.
Even more Gingham…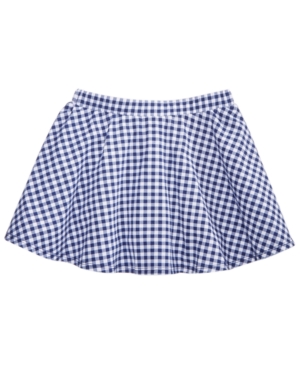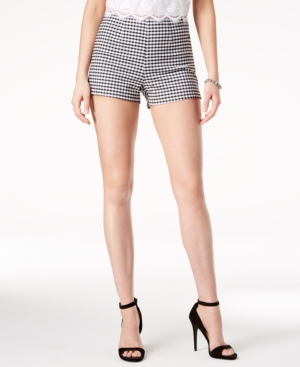 And if you have a little one that you want to do a cute mommy and me look with, there is an adorable Epic Threads Toddler Girls Gingham Scooter Skirt also at Macy's, pictured to the right.  I totally want to get this skirt for Layla.
Although I am usually a skirt and dresses girl, I have been giving shorts another try lately.  I have found some perfect options at Macy's.  You may have seen my Jessica Simpson shorts in the Vacation Second Day: Magic Kingdom.  I had originally bought those shorts for 90's Night on my cruise, but they ended up also being perfect for the hot Florida days at Disney World.  If you want to keep with the Gingham look, another cute option would be to wear Gingham shorts like these Guess shorts from Macy's. Pictured to the left, I love the white top on the model.
Although this is a striped skirt, I felt like this skirt from Amazon had a same vibe as the gingham skirt: Allonly Women's A-Line High Waisted Button Front Drawstring Pleated Midi Skirt With Elastic Waist Knee Length Blue Small.
Pastels and soft colors are also very much in right now.
Since the weather was a little cooler, I wore a French Connection turtleneck.  I love French Connection, and it is one of my favorite brands.  This sweater also comes in a pretty aqua color.  You can get this super soft sweater, pictured to the left, on Amazon: French Connection Women's Babysoft Long Sleeve Soft Solid Pullover Sweater.
The weather has been warmer lately so I would wear a light blouse or tank top this the Gingham patterned skirts and shorts.  Plain colors work best with this pattern.  I wore a light pink turtleneck, but other pastel colors or white would also look great with this ensemble.

Spring Accessories…
Long and pretty necklaces go perfect with turtlenecks.  I have been wearing long necklaces also with blouses and tank tops lately.  One of my favorites is the Laundry by Shelli Segal Petal Cluster Gold Pendant Necklace that I wore with this outfit.  I just love gold jewelry, and this one is especially pretty.
Although I use my Dooney & Bourke Star Wars purse on most days, I do like to change things up from time to time.  With this Spring outfit, I also had a pink French Connection bag.  All the details of French Connection Spring Purse were featured in a recent blog post.  Be sure to check it out!
And since it is Spring, I decided to get a manicure and pedicure.  I went for a soft pink color for my nails and a teal color for my toes.  The shiny pale pink looked perfect with my Spring outfit.  I just love getting pedicures in the Spring and Summer to go with my favorite warm weather shoes.
What are your favorite Spring trends?
XOXO.