Shorts weather is upon us, and I have been looking for the perfect Summer Time Shorts for these hot days.
I will be honest, I have never been a huge fan of shorts.  I am more of a skirts and dresses kind of girl.  But, recently I decided to give shorts another try.  It can be hard to find the perfect pair of shorts that are not too short and not too long.
Thank you Jessica Simpson for making shorts that make me feel confident and comfortable.
When I was doing my cruise shopping, I had purchased the grey distressed shorts pictured to the right to go with my 90's Night costume.  And I ended up loving these shorts so much that I wear them all the time.  A week before the cruise, I wore them during our Disney vacation.  Check out the blog and photos:  Vacation Second Day: Magic Kingdom.
This post contains affiliate links. Please see disclosures for more information.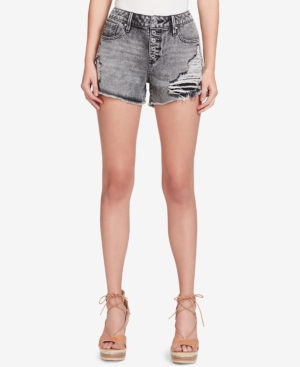 Get the look…
I purchased these Jessica Simpson Juniors Ranger Cotton Ripped High Waist Denim Shorts
at Macy's.  They come in three different colors, and I am wearing the color Veda – which is a light grey.  I thought that I would need to size up since they are Juniors, but they are actually pretty true to size.  Mine are a little big on me since I sized up, but I don't mind.


They are great for a casual weekend.  In the picture above, I paired them with a great top that was in my most recent Trunk Club box and Circus be Sam Edelman shoes. In the recent post Memorial Day Sales: Florals, Pastels, Straw Bag, I showed where you can get these great shoes ON SALE.  If you are thinking about trying out Trunk Club, I would highly recommend it.  I have tried a few different subscription boxes for clothes, and this one is my favorite.
And so I decided to get more shorts…
In my recent Trendsend box, I had a pair of shorts.  At first, I was disappointed because I did specifically write on my profile that I tend to dress nice even when I have no place to go.  As I mentioned before, I tend to live in skirts and dresses.  But, I thought these shorts were cute.  I could see them working with the floral print shirt that was also included in my box.
However, I decided to return both of the items.  The floral top felt just a bit too small on me, and I had seen a similar pair of Jessica Simpson shorts online at Macy's.  I was so happy with the first pair Jessica Simpson shorts that I decided to purchase a different pair of shorts from her brand, as well.
Jessica Simpson FTW…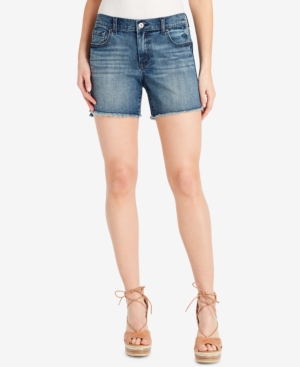 I went with the Jessica Simpson Juniors Mika Best Friend Denim Shorts.  Again, even though these were Juniors, they fit true to size for me.  This time I ordered my regular size, and they were perfect.  I brought them on my recent trip to Florida and wore them on my flight home.  I can't wait to pair them with fun summery tops.
Even though I haven't had the best luck with my recent Trendsend boxes, I am glad that they sent me the shorts and floral top.  This gave me ideas on what outfits I wanted to create on my own.  I went to Macy's and found a great selection of Jessica Simpson shorts, and there are always great floral options.
What styles will you be rocking this Summer?
XOXO.